This morning, I went to Kirkland's and bought what I had wanted to buy. Lighted branches!!! They were on sale for $19.99 (normally 29.99. The vase was $17.99.
I love them. I may get some more for my bedroom later. I also picked this up because I have an obsession for circles and it was on sale for $20! Its the metal thing next to the chair. Notice the circles on my curtains? I know, ridiculous.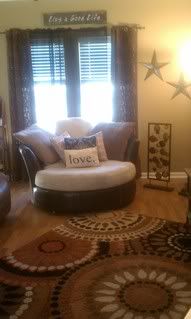 I also got a new broom because today all glamour cleaning supplies are 40% off! My leopard one had about had it...see how it's peeling? But, sweeping with a pretty broom is so much better than sweeping with an ugly yellow one, right? Well, I think so.:) I paid $7.49 for this.
Oh, and yesterday I got this because it looked like fun to scrub my dishes with a happy flower!!
Well, I had a coupon (imagine that, ha!) for $15 off a purchase of $50 or more!! Woo-hoo! That really helped. :)
Here is the circle metal bowl my mom got me from Big Lots ('scuse the messy kitch in the background!)
Sorry these pictures stink, they are all phone pics.
I started a picture wall. It's in the hall. I will probably junk up the whole wall with my children's pictures.
Anyways, today has been such a peaceful day..I have cleaned (or attempted to), sat and just listened to KLove with the windows open..it is such a gorgeous day here!!
I took this picture driving back into my 'hood this morning. Just a pretty day.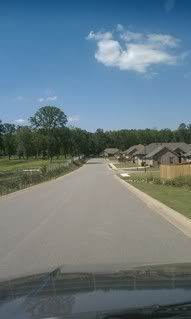 Oh, and I took a picture of my flag. I planted one of my palm trees. I just love palm trees!
Wanna know the very best part of my day?? Shh, don't tell anyone, cuz it's a secret. See the red straw? Yep, it's a Sonic Diet Vanilla Coke. I haven't had one in like, over two months. I gave in and treated myself this morning. It was OH SO GOOD!!!
(Excuse the yucky picture!)
I hope everyone has a great Thursday!!