I know I said I would be back with part two of my story-but I'm participating in a blog sale link up so I will get back to that tomorrow! If you know anyone who needs baby clothes, feel free to share this!!
Leslie is hosting this on her blog, and I LOVE this idea! I am so excited to see all the other blog sales. I am addicted to buying clothes through social media. You can also go visit my facebook page where I sell things from my boutique and Sawyer's clothes at www.facebook.com/sawyers.closet5. I didn't link it so you will have to copy and paste. Feel free to friend me there!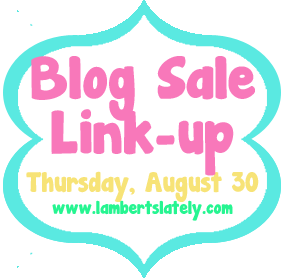 I have assorted sizes and seasons, so check it out!!
pink arglye baby legs, $4 new came from my shop but opened for SB to try on
newborn baby legs brand, $3.50
nursing pads, $2
NWT pink 3 month circo top and skirt $4.50
Target Chevron dress, VGUC, worn twice $4
3 onesies, 2 S/S 0-3 1 L/S $5.50 all
Mud Pie 9-12 tunic and capris, GUC I am saying this bc of normal wash and wear, but is in very good shape. $20 shipped
On, to the next 5 pics:-) I have ALOT, ha!
3-6 month blue/pink Carter's outfit $4.50
In the picture with the two bubbles-one on left is caroseul wear nd is in VGUC othert then the smocking is a little loose. One on left is $15 shipped, one on right is VGUC flip flop bubble and is $18 shipped. They are both three months.
NWT 3 month petit ami pink smocked dress, $18 shipped
pink white 3 month smocked-this fit SB NB-about 4 months. $14 shipped with bloomers
Three size 3-6 month outfits, $10.50 for all.
Old Navy 3-6 month ruffle romper, $6
Mudpie L/S onesie $7
Kelly's kids swimsuit. Tag says 12 month but runs small. Sawyer wore it this summer. $14 shipped
4th of July 3-6 month NWT faded glory $2.50
purple gap dress 3-6 month $4, watermelon bubble 6-9 $6, and Samara bubble 3-6 $4
Carter 3-6 month strawberry $4
Circo fish outfit 0-3 $4
custon NB romper $10
John Deere one piece, $4
Janie and Jack bubble $8
3 month carters outfits, $8 for both
3 month Ralph Lauren $8
3-6 month monkey outfit $5
circo black onesie, $3
purple onesie $2
Circo NB tye dye-I loved this. $4
Crab romper, 6 month wash and wear $2
Cherry outfit $4
2 NWT 12 month Carter's outfits-$9 for both
NWT 6 month flit and flitter one piece, $18 (this came from my boutique)
swaddle me blanket-$4(have a few more I will sell)
flit and flitter NWT 6 month $18
flit and flitter 9 month NWT $18
legwarmers in package leopard satin ruffles, $6 (they are NOT this price in my boutique!) pink and green argyle $4
boy leg warmers $7 for both
zebra bloomers $10 for both or $6 each
NWT minnie mouse romper L 2-4 with satin ruffle leg warmers! This is adorable for Halloween! $18
play outfit from my boutique, $10 1-3 years. Great for dress up or Halloween. NWOT.
both shoes are $3 each or $5 for both. size is 1-12 months. New.
6 month gator bubble, $12. price relects loose thread underarm. It if fixable, but not noticeable. My fave!
yellow gap gress, $9 worn once. EUC
apron dress, some wash/wear 0-3 $10
pink youngland smocked $6 3-6
blue smocked dress, 6-9 $8 GUC
Ok, that is all!! All you have to do is leave me a comment with the items you want, and your paypay email. Questions about sizing, pricing, etc..you may email me Scottyanglin@aol.com. If you want to purchase multiple items, I will work with you on price. I ship all items from home through the USPS via PayPal shipping. Happy Shopping!!!!
***After posting, I realized that my descriptions were in the wrong order. The bottom description in each set is for the first picture, so just read from the bottom up! I may fix this later, but I am holding a fussy teething baby so I am leaving it this way for now!! Sorry for the inconvenience!